When police in Florida discovered two known suspects had been spotted at a shopping mall, they jumped into action to bring them in for questioning.
They were aware that they were dangerous and as they watched the pair they saw another man join them.
When they tried to bring the suspects in, things took a turn for the worse and one of them fled. Their trusted police K-9 immediately started chasing him, preventing him from shooting at the officers.
But what the suspect did then left a team of law enforcers mourning their faithful four-legged friend.
He gave his life to save others. He's a good boy and he will never be forgotten. Rest In Peace #K9Cigo pic.twitter.com/7Snb2LvVFt

— PBSO (@PBCountySheriff) December 25, 2018
In saving the lives of his fellow officers three-year-old Cigo was shot dead by one of the fleeing men near the mall on Christmas Eve.
Palm Beach County Sheriff's Office spokeswoman Therese Barbera confirmed authorities had searched for two suspects wanted on warrants for attempted first-degree murder and robbery with a firearm. The suspects have since been found.
'Good Boy'
"He gave his life to save others. He's a good boy and he will never be forgotten. Rest In Peace #K9Cigo," said the Palm Beach County Sheriff's Office in a post to Twitter.
No bystanders were injured in the shooting and a suspect was taken to hospital with gunshot wounds.
Sheriff Ric Bradshaw said Cigo did his job and saved those deputies lives. Despite being shot he was still able to make it to the suspect.
"The pain felt by #K9Cigo's handler/partner is strong. Our prayers are with him tonight," the department said on Twitter.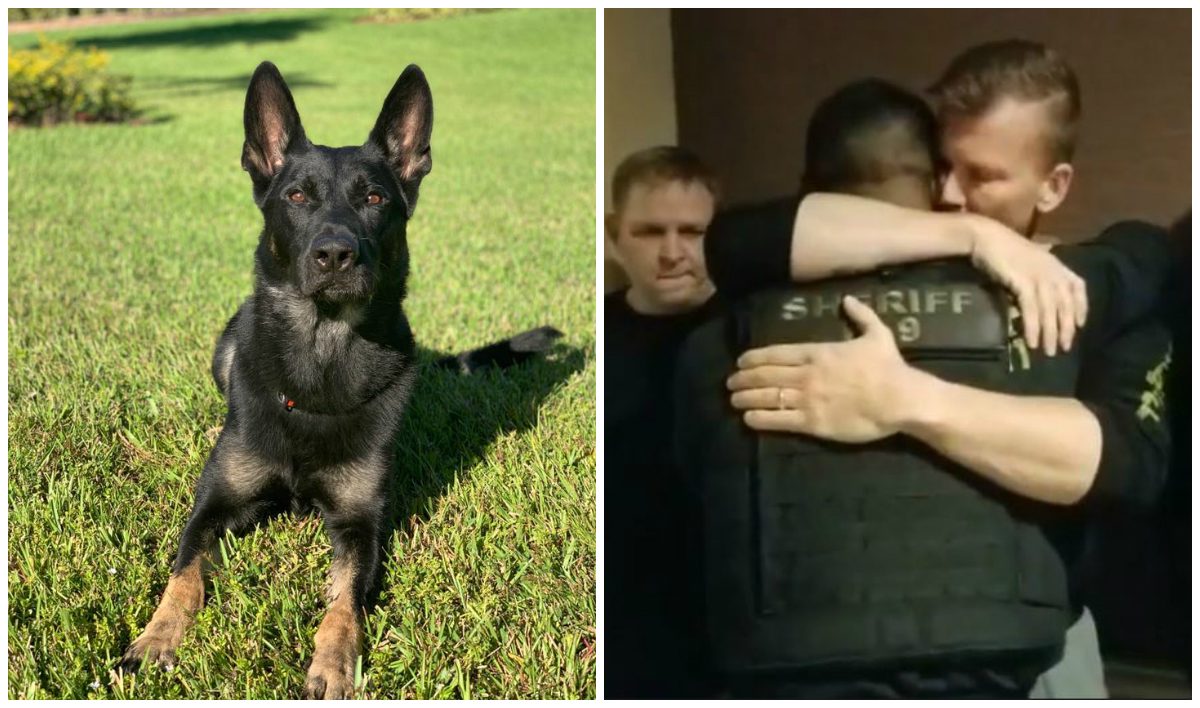 According to officers, Cigo pursued the suspect and he turned and fired multiple times, striking Cigo before two deputies returned fire, wounding the suspect who is in a serious condition, according to the statement released on Christmas Day.
"We made sure that there wasn't going to be any pedestrian traffic, there wasn't going to be any danger to the public but we had to get these two guys," Bradshaw said. "They are very dangerous people."
Cigo was pronounced dead at an animal hospital.
Dangerous people
"Remember, the dog did his job and he saved those officer's lives," Bradshaw said in the Florida Sun-Sentinel. "We got two very dangerous people off the street. Unfortunately it took the life of one of our dogs."
Find out more about the developing news story and the heroic actions of Cigo in the clip below.
Please share to pay tribute to Cigo and all the other police dogs who risk their lives to keep our officer safe. Rest in peace brave Cigo.