It can feel strange when you stay away from home and spend the night in a hotel; trying to sleep can be difficult with all those unfamiliar sounds.
But for one woman she experienced an unexpected guest in her hotel room, and it wasn't a guest she could get rid of so easily.
Melinda Major had traveled from her home in Nashville to a doctor's appointment in Memphis, Tennessee, reports CNN.
Instead of doing the journey all in one day she decided to stay overnight in a hotel. Little did she know what she was sharing a room with.
She was woken up the next morning by something wriggling around on her arm.
'I'm not a snake person'
She opened her eyes to a vision most of us have nightmares about. There, stretched out across her arm was a green garden or garter snake.
"I'm not a snake person," she told CNN. "I can deal with spiders and all the icky things, but snakes are not my thing."
Melinda jumped up with shock and managed to throw the snake off her arm, while she jumped onto the other bed in the room.
'Scary, scary situation'
She managed to take a picture before the snake got under the covers and called the front desk of the Hampton Inn Walnut Grove in East Memphis, CNN reports.
"It was a scary, scary situation," Melinda said.
Despite coming face to face with a scary sight she said the experience hasn't put her off staying there again as she's a regular at the hotel.
"As horrified as I am of snakes, they acted on it quickly," she told CNN. "They were very helpful."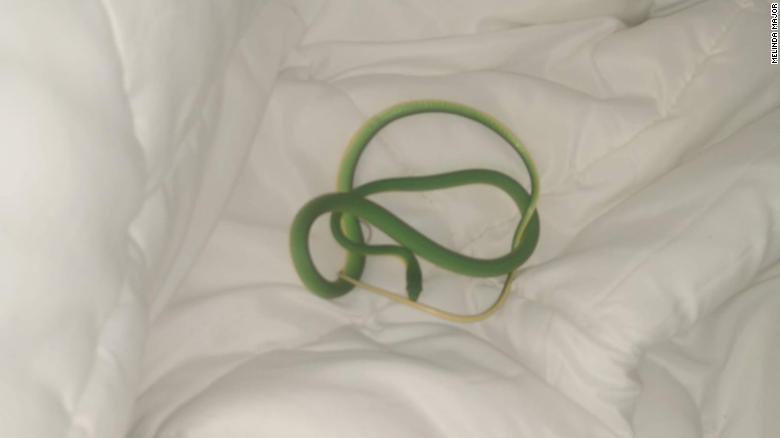 How would you feel if this happened to you? Have you had a similar experience? Please share your thoughts on our Facebook page and share this story.