For those of us lucky enough to attend college, studying can sometimes be the easy part; living away from home and having to be around people you don't know "24-7" is the challenge.
At a university in the UK, one hardworking member of staff has made sure students have enjoyed clean and tidy surroundings and a welcoming smile for the past 12 years.
So the students decided to give back to the man they describe as the "epitome of happiness". The end result reduced this sweet, hardworking man to tears.
Herman Gordon has worked as a cleaner at Bristol University for 12 years. He came to the UK from Jamaica when he was just 12-years-old, but hasn't been able to return to see relatives in over a decade.
Students at the college really appreciate Herman's positive attitude and happy-go-lucky outlook on life; particularly those who struggle with the pressures than can accompany going away to study.
The students decided they wanted to help the 65-year-old reunite with his extended family, and so set up a JustGiving page to raise the funds. Around 230 students ended up donating £1,500 ($1,974) in order to pay for Herman to take a well-deserved break.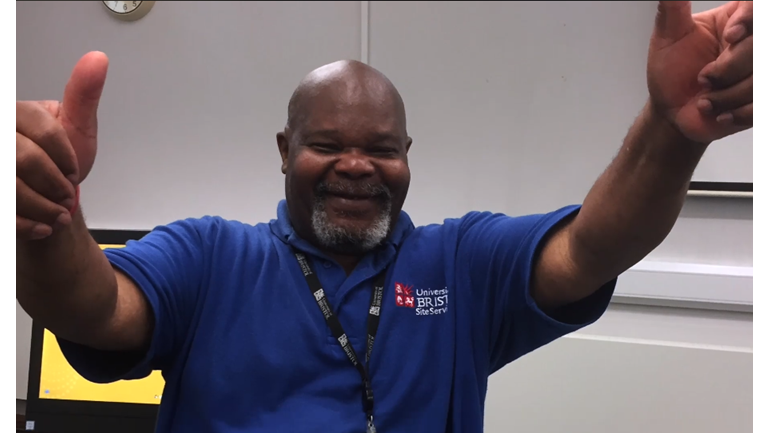 They presented Herman with the cash and a note which read:
Dear Herman,
On behalf of the students at Bristol, we would like to thank you for all the positive energy you have given us throughout the years. You have brightened many of our days and we want you to know that we love and appreciate you. We have come together to give you a special gift as our way of saying thank you. Have a lovely summer!
Much love,
Bristol students
Now, Herman and his wife have enjoyed a dream vacation to not only visit family and familiar places but also to celebrate their 23rd anniversary.
The couple started off with a two-night stay at the Royal Caribbean Resort & Private Island in Montego Bay, courtesy of Sandals Resorts. They then went on to visit family in Kingston, Jamaica.
Arriving at the resort, Herman said: "God bless you all. Everybody will see this and think that I'm a trillionaire!" And his wife Denise thanked all of the students for their special gift.
The idea appeared on Bristruth's Facebook page, who have since used the story to raise money for the mental health charity Mind.
Watch Herman's emotional reaction when he is surprised by the student's gift in the video below.
What a well-deserved gift for a man who clearly means a lot to these students. We hope Herman and his wife had a wonderful time reliving old memories and making new ones! Please share this story if this put a smile on your face!