Teachers are some of the most important people out there. They have the ability to influence our children, shaping their young minds for the future.
We all have at least one memory of a teacher that influenced us as children and made a difference in our lives.
It amazes me the level of pay that these teachers are getting for such an important job; it's clear that most teachers are passionate about educating our children and are definitely not there to get rich!
I love stories which show just how much teachers are appreciated. Courtney Adeleye is a very appreciative parent. She is a successful businesswoman who is the CEO of a hair care products business called The Mane Choice.
But for her it does not seem like success is measured in money – instead she likes to help others who need it.
It was during the summer that Courtney wanted to help her daughter's teacher. She had learned that the teacher was having to commute several hours a day by bus to get to her job because she didn't have a car.
Courtney really wanted to do something to help.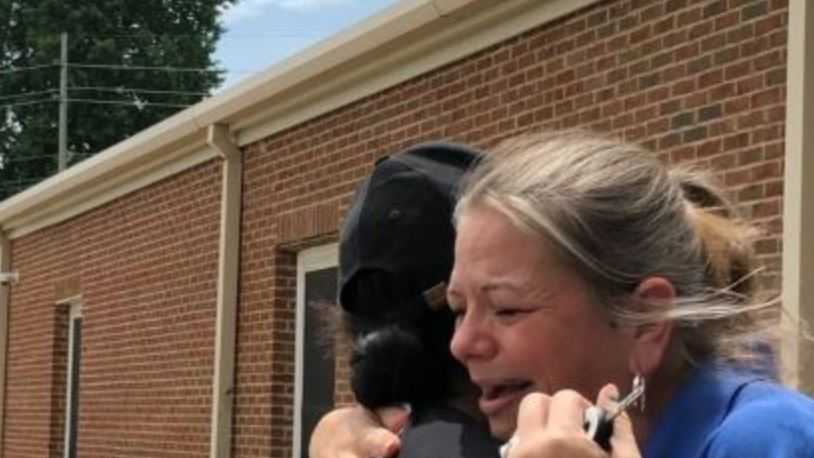 After the success of her company, Courtney felt she wanted to help her daughter's teacher. So she did something that shows what a big heart she has.
Adeleye and her husband, who is a medical doctor, went out and bought the unnamed teacher a new car.
The mom delivered it to her daughter's very emotional teacher with a big blue ribbon on it.
'Are you serious?'
She told her daughter's teacher that she knew she had to take multiple buses to work every day and she didn't want her standing in the cold or intense heat anymore.
The mother explained that she had something out in the school yard for her – and when the teacher realized. shock took over.
"Are you serious?" the teacher says, getting emotional. "You're really serious? Oh my gosh!"
Thank goodness Adeleye's 11-year-old daughter was there to film it all.
Watch the teacher's emotional response in the video below.
What a big heart Courtney Adeleye has! Please share to pay tribute to her generosity and to all the hard working teachers out there.