Those of us lucky enough to know our grandparents can appreciate the special bond we share with them.
Nobody knows this better than Matthew Stewart, a popular TikToker from Florida, whose relationship with his 88-year-old grandmother Bobbe was so close that he built a special room in his home for his GB, as he called her, to move into.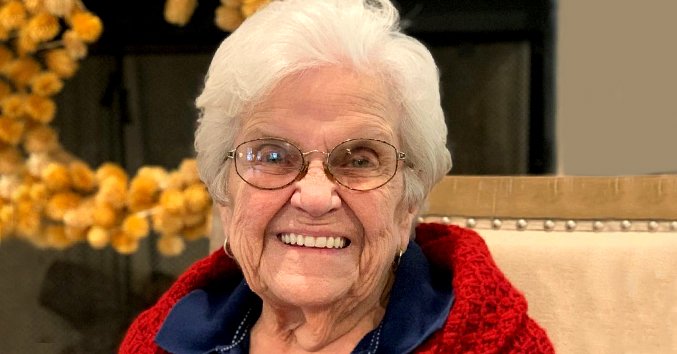 Stewart wanted to thank his grandmother for everything she had done for him over the years. The videos he posted of his precious grandmother soon captured the hearts of people all over the world.
When his grandmother was diagnosed with Alzheimer's, Stewart wanted to make sure she was safe and so moved her in with him and his wife.
The devoted grandson shared the wonderful moment he told GB that she would be moving in with him in a video on Instagram in October 2020.
Stewart drives his grandmother to the site of where their new house is being built and breaks the news that the house includes a bedroom, sitting room, and bathroom just for her so she can move in with them.
GB starts to cry and says 'just to know someone wants me' which Stewart revealed almost broke his heart to hear.
Stewart said it was the least he could do for his grandma who had been there for him during the most challenging times in his life, and he was grateful to be able to return the love she had shown him over the years.
Later he shared another tear-jerker of a moment when he decided to turn his home into a salon so he could give his grandmother's hair a treat since her regular salon had been closed for some time due to the pandemic.
Despite his lack of haircare knowledge he still stepped in and gave his beloved GB the best treatment to raise her spirits.
Grandma Bobbe said Stewart made her "beautimous." She described the experience as a special one, adding that it was a great time with her grandson. The salon session was shared on social media and more than 1.3 million people watched.
The last video Stewart shared on his Instagram was of the beautiful moment Stewart and his wife shared the news they were going to have a baby and GB was going to become a Great GB. The overwhelmed grandma was left speechless and started crying. When she eventually managed to speak she said she was ready to change diapers.
Sadly just after the news GB had a fall and had to go into rehab to recover. Stewart had hoped the good news would be something to help push her to get better and come home, but sadly the beloved Grandma died at the end of January.
On February 13, 2022, the young man celebrated what would have been Grandma Bobbe's 89th birthday. He shared some of her most beautiful moments in a video on Instagram.
The couple's daughter is due in April.
This amazing woman brought so much joy to so many people and reminded us all to keep our loved ones close, especially those who have been there for us when we were younger and now need our support in their old age. Rest in peace sweet Grandma Bobbe.
Please share.