We all know someone that had a figurine collection at some point in their lives; it may even have been ourselves that fell in love with a particular porcelain line.
It seemed popular in the 1970s and even into the '80s to have a glass cabinet with your favorite figurines on display. I know my childhood home had one.
Well if any of you collected the Precious Moments figurines and were thinking of parting with them, you may be surprised to learn the value of them today.
The Precious Moments figurines were originally 21 figurines sold in 1979.
High price online
These very endearing figures were designed by company creator Sam Butcher and today his Precious Moments artwork is among the most recognized art in the world.
Today, these figurines are considered vintage collectibles and certain designs have been going for a high price online.
It may surprise you to learn that certain designs have been valued at upward of $2,000.
One design called "God Loveth a Cheerful Giver," depicts a girl and a wagon full of free puppies and has gone for a higher price.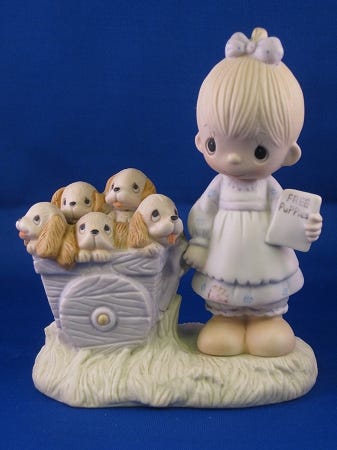 Moe of them have gone for the $200 range but that's still a decent profit considering their original price back in the '80s.
Only one of the original 21 created is still available to buy.
"Love One Another" was the first drawing every made by creator Sam Butcher. It was inspired by his daughter Tammy sitting on a stump with her uncle, according to Good Housekeeping.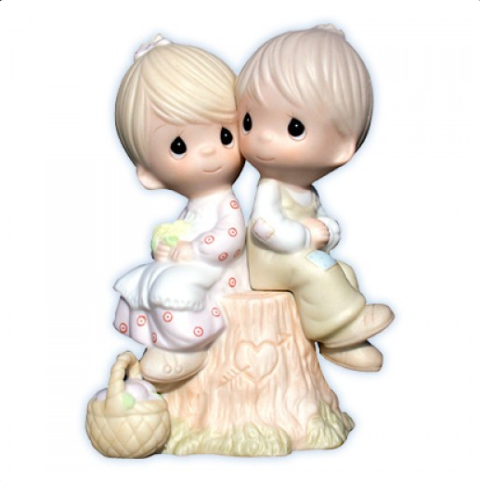 Some of the figurines are now listed on eBay with a starting price of a couple of hundred dollars. But if you're lucky, you could earn a lot more.
Some "God Loveth a Cheerful Giver" figurines have reportedly sold for $750, and valuations have been placed on it "in excess of $2,000," Paul Burton, a spokesperson for Woolvey Fine Antiques & Collectibles, told Today.
No other stand out
"I don't believe I have seen one actually sell for more than half of that, although they are still occasionally listed for sale in that price range," Paul said.
"There really isn't another stand-out I can think of that would be close to this price," Paul said.
Time to dust off your shelves and scour thrift stores to see if you can find the figurine that could make you a couple of thousand dollars today.
Please share this story with all the people you know that might have one of these very adorable little figurines.