It's not every day you see a giant snake trying to cross the highway.
For drivers in Porto Velho, in western Brazil, they were forced to slow down and look on in awe as a gigantic snake made its way slowly across the highway.
The anaconda was making a very dangerous journey across the highway with its sights on the forest the other side.
The incredible sight forced people to get out of their vehicles and watch. But then one man decided to help the snake and risked his life in doing so.
"It was so beautiful to see," Italo Nascimento Fernandes told The Dodo.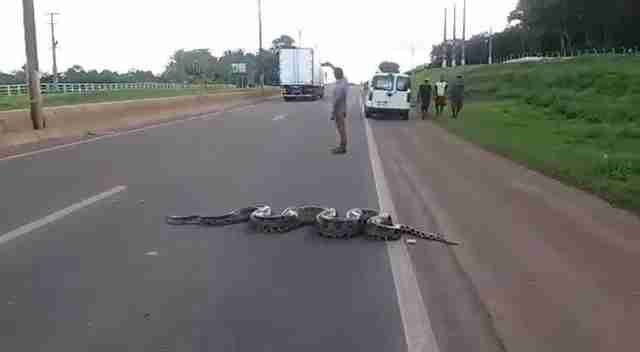 "We decided to stop the car and get out," Fernandes told The Dodo.
"There are no signs for the cars to wait so she can cross. I have seen snakes run over on the highway before, and think such thing is a crime."
Fernandes decided he couldn't just watch so got out of his vehicle and attempted to stop the fast moving vehicles to protect the snake.
Thankfully other drivers wanted to help too, so he wasn't alone in his quest to protect this magnificent beast.
Animal heroes praised
Now Fernandes wants to pay tribute to all the animal lovers who showed respect for the giant snake. Thanks to their joint actions the snake could return to its natural habitat.
"It's not everyone who protects animals like that. Some people prefer to see them dead," Fernandes said. "Seeing all the people help gave a wonderful sensation."
The creature-loving group have even earned the praise of biologist Flavio Terassini. Speaking to G1 Globo, he estimates the snake to be about 10 years old.Facebook URL
"People did a good job of stopping traffic in order to stop it from being run over," he added.
Watch them in action in the video below and don't forget to SHARE with your friends and family.
I'm so thankful these animal lovers were around to protect this maginificent creature.